FBX self-priming stainless steel chemical corrosion resistant pump

CONTACT US:86-020-89230513
EMAIL:3105442310@qq.com
Model FBX self-priming pump series parameters:
Capacity: 2.3-120 m3 / h
Head: 3-35meters
Power: 0.25 KW to 15KW
Working voltage: 220V or 380V
Liquid Temperature: FBX≤ 90 ℃,FBXT≤ 110 ℃
The motor speed: 2900 r/min
Material: pump casing, back cover, impeller and the pump shaft are made of 304 or 316 stainless steel
Performance: corrosion resistant, acidresistant, alkali resistant

Application:
1. Environmental protection, chemical, pharmaceutical
2. Electroplating, deeing, sewage process
3. Food,beverage
4. Acid, alkali liquid, Organic solvent and inorganic solvents liquid
Attention: Some chemical raw materials was limited by the temperature and the concentration, if there's any question, can inquiry customer service.
picture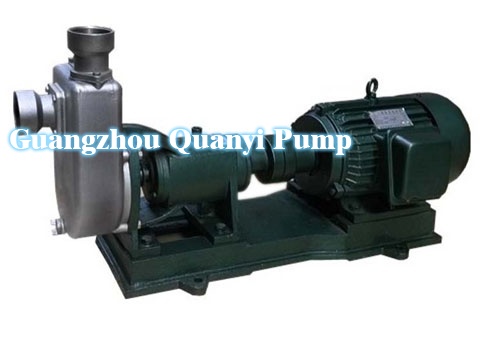 Product Performance Date:
FBX self-priming stainless steel chemical corrosion resistant pump
Model
Capacity
(m³ /h)
Head
(m)
Power
(KW)
Input Caliber
(mm)
Output Caliber
(mm)
25FBX-8
25FBX-8D
2.3
3
5.5
9
8
3
0.25
25
25
25FBX-13
25FBX-13D
3
6
10
16
13
4
0.55
25
25
25FBX-13-A
25FBX-13D-A
2.9
5
11.3
16
14
4
0.75
25
25
25FBX-13T
25FBX-13DT
3
6
10
16
13
4
0.55
25
25
25FBX-13T-A
25FBX-13DT-A
2.9
6
11.3
16
13
4

0.75
25
25
40FBX-18
40FBX-18D
6
10
18.5
21
18
8
1.5
40
40
40FBX-18T
40FBX-18DT
6
10
18.5
21
18
8
1.5
40
40
50FBX-22
50FBX-22T
8.5
16.5
24
28
22
14
3
50
50
50FBX-32
50FBX-32T
18
25
33
35
32
27
5.5
50
50
80FBX-32
80FBX-32T
24
40
50
35
32
27
7.5
80
65
100FBX-28

42
70
84
34
30
25
11
100
80
100FBX-30

80
100
120
34
30
25
15
100
80